Wednesday, March 05, 2014
The Beige Book Is Out…The Agriculture Picture Is Not Rosy
Tweet
Agricultural conditions softened since the Federal Reserve System issued its last Beige Book in January. The latest issue expresses a number of concerns about the economic state of agriculture. "Severe winter weather affected several Districts with some crop damage being reported by Richmond and Atlanta, while Chicago noted disruptions in the flow of agricultural products. Both Kansas City and Dallas cited dry conditions adversely affecting wheat crops, while San Francisco reported concerns about water shortages and water costs. Several Districts noted falling feed prices had a positive effect for cattle and hog producers. Kansas City indicated farmland price appreciation moderated from the rapid pace seen in the past few years. Crop prices received in January by farmers fell from a year earlier for corn, wheat, soybeans, hogs, and chickens; prices increased for cotton, rice, oranges, cattle, milk, eggs, and turkeys."
The Beige Book is published by the Federal Reserve System prior to the meeting of its Federal Open Market Committee (FOMC)—which next meets March 18th and 19th. Within eight of the twelve Federal Reserve Bank Districts, economists will survey the agricultural economy as part of the District reports that will be reviewed by the FOMC as part of its decisions on monetary policy. Stresses on agriculture will be weighed against the dynamics underway in the rest of the economy. The various district economists nearly all reported weather stress, softening of land values, and lower commodity prices.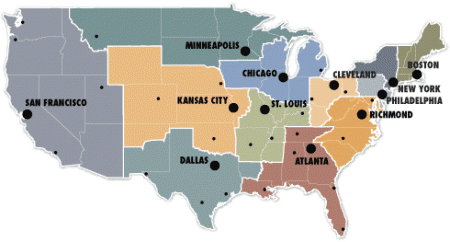 5th District—Richmond
According to agriculture contacts, crop prices declined in recent weeks. Falling feed costs and higher cattle prices led contacts to believe it will be a good year for livestock producers. Also, farmers expect an increase in poultry production. However, a North Carolina respondent was concerned about an increase in swine virus in his region. A Virginia nursery owner stated that recent cold weather damage, if any, will not be known for a month or two; even so, he expects a ten percent increase in year-over-year sales this spring. A North Carolina agri-business contact reported that tobacco and vegetable producers in his region were cautiously optimistic for the year ahead. In South Carolina, recent ice storms have caused timber damage that is still being assessed.
6th District—Atlanta
Recent rains improved soil conditions in parts of Florida and Georgia while portions of Alabama, Louisiana, Mississippi, and Tennessee experienced dry soil conditions. Meanwhile, freezing temperatures and cold winds had farmers and livestock producers taking precautions to mitigate damage to crops and livestock throughout much of the District. There were mixed reports of the impact on Florida crops with some indicating damage to vegetable and strawberry crops and others suggesting no damage to citrus. However, the Florida citrus crop continues to be adversely affected by citrus greening causing diminished production and increased expense battling the disease. On a year-over-year basis, prices paid to farmers for corn, soybeans, hogs, and broilers were down; while cotton, rice, oranges, beef, and eggs were up. The most recent domestic crop production forecasts for corn, rice, soybeans, oranges, and cotton were unchanged from a month ago. Similarly, pork and broilers projections were down moderately while beef projections were up slightly.
7th District—Chicago
Severe winter weather disrupted the flow of agricultural products between farms and markets during the reporting period. Crops that were sold stayed on farms longer than intended as transportation problems delayed shipments. Contacts also reported shortages of trucks and drivers to deliver inventories from the large harvest last fall. Demand for crops has been better than expected, particularly for corn, pushing inventories lower and prices higher. Soybean prices drifted up as uncertainty regarding the harvest in South America weighed on markets. Concerns about high costs for land rentals were also widespread. Livestock producers reported improving bottom lines driven by higher prices for milk, hogs, and cattle combined with lower feed costs. However, some hog farms reported losses of young pigs because of disease. Dairy producers have seen a boost in demand from exports.
8th District—St. Louis
Red meat production in the District for 2013 was 1.2 percent higher than in 2012. The production increase was driven by the District's largest producers in Illinois, Indiana, and Missouri.
9th District—Minneapolis
Conditions continued to soften for district farmers, while livestock and dairy producers remained in better shape. More than half of respondents to the Minneapolis Fed's fourth quarter (January) Survey of Agricultural Credit Conditions said farm incomes decreased in the last three months of 2013, and two-thirds expected incomes to fall in the first quarter of this year. Cattle and hog producers continued to benefit from high prices and falling feed costs, as did dairy producers, according to survey comments. Informal survey results suggest that farmers are reacting to falling corn prices and intend to plant fewer acres of corn and a potentially record high acreage of soybeans this coming spring. January prices received by farmers fell from a year earlier for corn, wheat, soybeans, hogs and chickens; prices increased for cattle, milk, eggs and turkeys.
10th District—Kansas City
Crop growing conditions deteriorated, while livestock prices strengthened since the last survey period. Slightly more than half of the winter wheat crop was rated in fair to poor condition as scattered snowfalls provided only marginal soil moisture. Crop prices edged up from recent lows due to an uptick in export demand and concern that South American corn and soybean production would be lower than previously expected. Feeder cattle prices rose further with historically low cow inventories, and strong export demand supported higher fed cattle prices. Hog prices rose amid an intensifying swine virus outbreak that was expected to constrain pork supplies. In addition, production costs for livestock feeders edged down due to lower feed prices. Agricultural bankers indicated that farmland price appreciation moderated from the rapid pace seen the past few years, and most expected values would level off in 2014.
11th District—Dallas
After gradually easing throughout the fall, district drought conditions worsened slightly in January and early February. Wheat crop and pasture conditions deteriorated somewhat due to lack of sufficient rainfall. Cotton prices have rallied since December, which may lead more farmers to favor cotton over other row crops when making planting decisions this spring.
12th District—San Francisco
Production in agricultural and resource-related industries expanded on balance. Demand was stable for most crop and livestock products. Concerns about water costs and availability may cause farmers in the California Central Valley to scale back planting. Contacts expect growers to allocate water to more permanent plantings, such as almond and walnut orchards, before allocating water to annual crops, such as corn. In addition, dairy and meat producers may face higher feed costs due to water shortages.
Posted by Stu Ellis on 03/05 at 08:24 PM | Permalink
Post a comment