Thursday, January 23, 2014
Will Your Marketing Plan Cover Your Production Cost in 2014?
Tweet
Grim. That is the way farm profitability is looking as more farm economists are weighing in with their projections of crop production expenses for 2014. While costs may not be extraordinarily high, lower crop prices put farmers in the proverbial "cost-price squeeze."
The latest estimates of crop production costs and breakeven price estimates are offered by Steven Johnson of Iowa State University. His projections are based on the Estimated Costs of crop Production in Iowa.
Input economics:
Fertilizer costs are expected to drop about 20%.
Costs of seed, crop protection, energy and cash rent will offset the lower fertilizer bill.
The overall cost to produce a bushel of corn will be down 1% from 2013
The overall cost to produce a bushel of beans will be up 2% from 2013.
Land costs are not expected to drop significantly, but flexible cash leases will help that.
Revenue:
Cash corn prices have dropped 35% from the 2012 highs. Beans are down 10%.
New crop futures show potential for very tight crop profit margins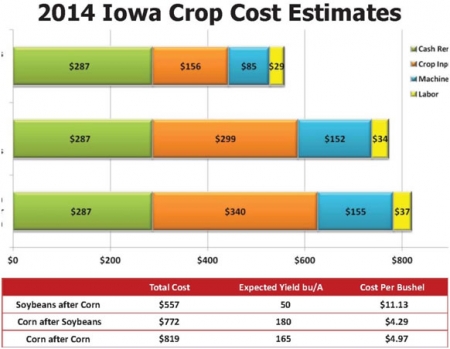 Considerations:
Johnson is using a conservative estimate for cash rent of $287 per acre. In many regions cash rent is nearly twice the amount suggested by Johnson.
Breakeven prices for marketing become $11.13 for soybeans, $4.29 for corn after beans, ad $4.97 for corn after corn.
Summary:
Despite lower fertilizer costs and the use of lower levels of cash rent, cost of production for corn and beans still results in higher breakeven costs than many farmers will be able to achieve in 2014, even with a strong marketing plan.
Posted by Stu Ellis on 01/23 at 11:18 PM | Permalink
Post a comment