Wednesday, December 04, 2013
2013 Income and Expenses: How Do You Compare To USDA's National Summary?
Tweet
While good crop yields will help boost your income for 2013, lower prices will keep them in storage. As a result, USDA's Economics Research Service (ERS) says farm cash income will be down some 3% from last year when there were more harvest time sales of grain than this year. Nationally, 2013 net farm income will be $131 billion, up 15% from 2012. Net cash income for 2013 will be $129.7 billion, down 3.4% from last year. Since ERS expects delayed marketing, crop cash receipts will be down 3% in 2013. Additionally, livestock receipts that are nearly 6% higher than last year will not be sufficient to offset higher production expenses and the lower crop income. There are many more details in USDA's financial picture for 2013.
Income
Net cash income is typically higher than net farm income. For the past decade net farm income being more than net cash income has only happened on one prior occasion in 2004. At that time crop marketing was delayed, and with high production expenses, net cash income fell below net farm income.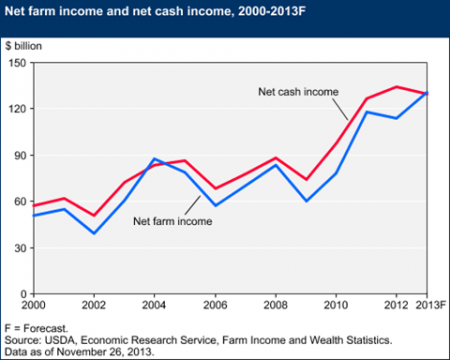 Drought recovery in 2013 has been the primary economic dynamic with higher income levels for corn, beans, milk, and poultry. The only downside to the larger crops and subsequent lower prices is the fact that more will go into storage compared to historical marketing patterns. USDA's forecast for farm financial trends indicates that cash receipts for corn this year will decline significantly, but there will be a large increase in the year-end inventory offsetting any decline in income from the crop. In fact, there will be a higher value of production for corn. USDA says domestic and foreign use of US corn will increase, as will ethanol production compared to 2012.
Soybean income will decline slightly, but higher yields and production will mean increases in the value of the stored soybean crop and the value of soybean production. There will be higher domestic and foreign use of the 2013 soybean crop.
Wheat income and value of production will decline in 2013, compared to 2012. That reflects reduced acres, a reduced crop size, lower prices, and smaller domestic use. There will be a slight increase in wheat exports for 2013, compared to last year.
Livestock, dairy, and poultry receipts for 2013 will be up, helped by larger gains in broilers, milk, and hogs. The higher hog forecast results from an increase in domestic and foreign sales at higher prices than in 2012.
Expenses
While income is up, so are production expenses—by some 3% from last year, keeping alive the trend of year to year increases since 2002. However, the increase is less than half of the increase seen in 2011 and 2012. The increase will only be 2.4%, compared to 6% last year. Production expenses will be at a record high of $352 billion.
A significant part of the higher production expense is due to the 12% increase in the cost of marketing, storage, and transportation of the larger volume of crop production. That more than offsets a large decrease in fertilizer costs and smaller decreases in expenses for fuel, interest, and capital consumption.
Feed expenses which rose significantly in 2012 will see less than a 2% increase for 2013. USDA says, "Feed prices were slightly below December 2012 levels through the first 8 months of 2013 and are projected to decline through the 4th quarter of 2013 due to lower corn and soybean prices."
For crop production, 2013 provided a 1.4% drop in the overall cost of production. While seed and pesticide costs were up slightly, fuel and fertilizer prices were down. USDA says, "Fertilizer prices were down only slightly from 2012 through mid-2013 when most fertilizer was purchased. Since then, prices have declined sharply."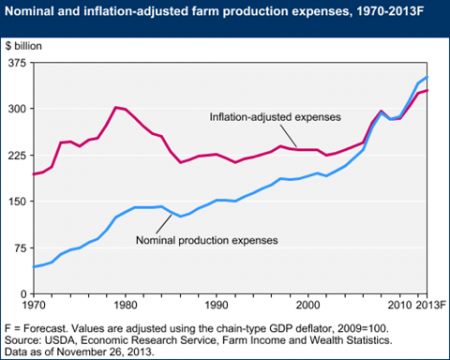 In the stakeholder category, labor expenses went up 11% in 2013, pushing labor cots up more than 32% over the past 2 years. Some of it was due to more labor being needed for larger crop production in 2013. Cash rents to land owners went up 6.6% in 2013. And interest expenses paid to lenders was up 3% in 2013.
Interestingly, the USDA's 2013 forecast for net farm income is nearly 8% more than what USDA forecast in August. That results from a forecast of higher net cash income by some $8.9 billion. That was the result of price gains in some crops and a higher estimate of the volume of crops that would be stored as opposed to marketed. The change also reflected a higher value of livestock products and a reduction in the estimate of production expenses due to lower fertilizer prices.
Summary:
2013 brought a different financial picture to agriculture, compared to 2012, primarily due to more crop production. Although crop production was larger, more will be stored, throwing net cash income from 2013 into 2014. The lower crop prices helped reduce feed costs for livestock, and with lower fertilizer prices, production expenses did not rise as much as expected. The result is higher net farm income in 2013, but because of the delays in grain marketing, the cash income will not be realized, and net cash income will drop below net farm income, which is atypical.
Posted by Stu Ellis on 12/04 at 04:01 AM | Permalink
Post a comment