Wednesday, November 13, 2013
How Will You Know If You Are Making Money in a Low Price Era for Grain
Tweet
The key to knowing if you are making any money selling grain is knowing your cost of production. That was lesson #1 in your Vo Ag Class, at the Extension marketing meeting, and one of the initial questions your lender asks about. Calculating and knowing your breakeven price will help know if your latest grain sale was at a profit or at a loss. For the past few years, that has not been an issue. For the next few years, it will be a major issue.
Not all farm operators pay cash rent for land they farm, but many who do have seen their break-even costs rise over the past 10 years due to higher levels of rent. Throughout Illinois, and regardless of soil type, that has been the case. And as a result of cash rent levels that have ratcheted higher, so have break-even costs of production.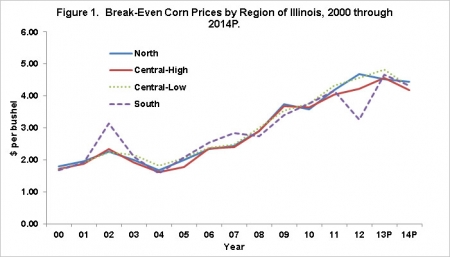 University of Illinois farm management specialist Gary Schnitkey says in 2004 break-even prices for corn production averaged $1.67 per bushel. From that time to now, break-even prices have increased each year, and in 2013, they are $4.65 per bushel of corn. He says increases in both non-land costs, such as seed, fertilizer, and labor have lead to the increases along with higher cash rents.
Schnitkey's calculations of average cash rents and non-land costs point to $4.31 as an average break-even cost of production for 2014. That is below 2013 levels, due to lower fertilizer costs, and he is projecting 2014 yields to be better than 2013. The combination helps to lower the break-even cost.
The critical issue is that cash grain bids for 2013 fall delivery are $4.40 per bushel, and that is below the projected $4.65 break-even level. Cash bids for 2014 fall delivery are near $4.35 per bushel and that is near the $4.31 per bushel break even level. Schnitkey says corn prices in the low $4 and high $3 range are possible over the next several years, leading to the possibility of losses.
There are some possibilities that break-even prices may decline over time. Non-land cost could decrease; however, this process will be slow and there are limits to likely non-land cost decreases. Further decreases in break-even prices are possible with cash rent decreases. However, cash rents tend to be "sticky". This suggests a protracted period of losses would have to occur before cash rents decline.
The breakeven price for beans also is going higher, and higher levels of cash rent has been the primary driver to no surprise. Farmland that has been rented for average levels meant that it would cost about $5 per bushel to produce soybeans ten years ago, but that has climbed to more than ten dollars per bushel in the past 10 years.
Illinois ag economist Schnitkey determined the break-even price for soybeans by adding non-land costs, such as seed, fertilizer, and fuel, to the cost of cash rent, then subtracted any government payments and any crop insurance revenue.
For the coming year, Schnitkey estimate soybean input costs and other non-land at $326 per acre. If average cash rent is $264 per acre, and there are no government payments nor crop insurance proceeds, then the break-even level for soybeans yielding 56 bushels per acre would be ten dollars and 54 cents per bushel.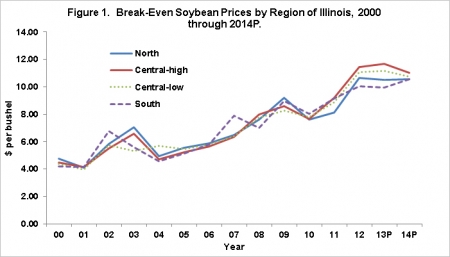 When there are no crop insurance indemnity payments, the break even cost drops slightly. Of course the break-even cost in the drought year of 2012 would have been much higher because the yield was less and production costs were the same.
When cash rent is above the $264 level per acre, consequently the break-even price rises. Cash rent that is $100 more per acre at $364 would see the breakeven price for soybeans rise to $12 and 32 cents per bushel.
The projected breakeven point for soybeans in 2014 is slightly below the level for 2013 due to lower production costs and higher yield averages.
Currently cash soybean bids for 2014 fall delivery are near $11.30 per bushel and that is above the breakeven cost of $10 dollars and 54 cents per bushel. However, USDA is projecting soybeans prices to average about $10 and 60 cents per bushel over the next several years, and that would challenge profitability, based on the current breakeven levels for input costs and cash rents.
Just like corn, the breakeven price for soybeans can decline over time, if cash rents decline due to low grain prices. However cash rents tend to hold in place and not drop very far and very fast.
Break even prices will vary from farm to farm, depending on costs, yield levels, and the cost of land. Farms with a lower breakeven price will be able to survive lower commodity prices better than farms with high breakeven prices.
Summary:
Breakeven prices have been rising for the past 10 years due to higher input costs, particularly higher levels of cash rent. While that has not been a siginificant issue with recent high prices of corn and soybeans, it will become a critical issue as corn prices are in the range of $4 futures and $3 cash, and soybeans test price levels below $12 per bushel. Operators will need to know their breakeven price in a need to understand whether grain sales will be in the red or in the black.
Posted by Stu Ellis on 11/13 at 11:13 PM | Permalink
Post a comment