Tuesday, November 05, 2013
Cornbelt Update, November 4, 2013
Tweet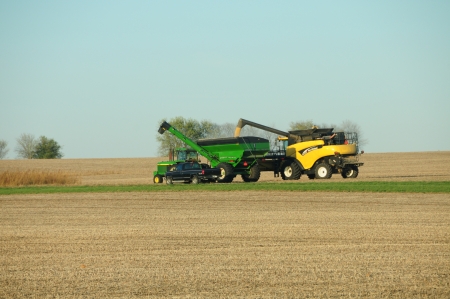 A weekly Cornbelt digest of marketing, economic, agronomic, and management information.
· Corn prices. If the market is trading a rumor of a carryout of more than 2 bil. bu. does that mean prices will rise or fall further after the USDA issues its November production and supply- demand reports on Friday and confirms that amount? Corn continues to creep lower as more estimates have a 14 in front of production and a 2 in front of the carryout numbers. We are now at 3 year price lows, with $3-range cash bids at many interior locations around the Cornbelt. Processors continue to fight for corn and are bidding 15¢ over DEC in Decatur and 20¢ over DEC in Cedar Rapids. NOLA export terminals are offering $209 ($5.32), trying to compete with Argie: $213, Brazil: $191, Black Sea: $198; and it is $9.67 on the Dalian futures market. Export sales were above market expectations at 179 mil. bu. of 2013 corn and 29 mil. bu. of 2014 corn for the combined 3-week period. Export inspections were 22 mil. bu. which pushes the total to 122% of 2012 inspections at this time last year. Exporters may have to increase bids to draw corn from storage to fill the contracts. Among the sales were nearly 5 mil. bu to Japan and nearly 7 mil. bu. to South Korea, which bought US corn for the first time in over a year. Export sales usually reach the 40% mark at this time of year compared to the final estimate. Last year we were at 58% and this year 66% of the USDA estimate has been reached. Foreign demand could soften as the International Grains Council has raised its estimate by 5 mmt for the global crop size to a total of 948 mmt. US crop size was estimated at 14.223 bil. by Informa Economics, based on a 161.2 bu. yield and harvested acres at 88.2 mil. FC Stone's estimate is 14.367 bil. bu. with a 161.2 bu. yield. USDA's last yield estimate in Sept. was 155.3 bu. Ethanol production was reported at 911,000 bbls per day, over 900,000 for the first time in 15 mos. Inventory dropped to 15 mil. bbls indicating more exports and possibly more production. Outlook is that importers are buying the US this week. Ethanol margins are positive. Hog margins are at multi-year highs. Poultry is in the black. Those are good signs, but the supply still is getting bigger and likely to drag prices lower and traders are comfortable with short positions. Will storage pay? What if it doesn't?
1) Dec 13 corn closed at $4.2725, down 1¢ for the day and down 12.75¢ for the week.
2) Mar 14 corn closed at $4.375, down 1.75¢ for the day and down 14.5¢ for the week.
3) Dec 14 corn closed at $4.6675, down 2.75¢ for the day and down 16¢ for the week
· Soybean prices. The USDA issues its Crop Production and WASDE Reports on Nov. 8 and the market is preparing for a 42-43 bu. average yield. And that could be enough to avert any rationing of soybeans toward the end of the marketing year based on known demand. The market has ignored some major league export numbers this week with little fanfare, indicating that it is expecting a big crop. Crop estimates were issued by Informa Economics, which put the yield at 43.3 bu. and pushed the production to 3.298 bil. bu. on 76.1 mil. acres and FC Stone which pegged the yield at 43.3 bu. also, with production at 3.270 bil. bu. USDA's last crop estimate in Sept was a 41.7 bu. national yield and a 3.149 bil. bu. crop. Export sales are at a near record pace with marketing year sales to date at 86% of USDA's expected total, compared to the typical sales rate of 50% on Nov. 1. Export inspections were tallied at 84 mil. bu., just shy of the 87 mil. bu. record and there is some feeling that exports could be 50-100 mil. bu. more than USDA estimates depending the export pace in South America and the EU demand for meal. There are expectations also China could take an additional 200 mil. bu. early in 2014. USDA reported 174 mil. bu. in sales and 188 mil. bu. in shipments during the extended reporting period. Those numbers may keep increasing because US exporters have increased their capacity by 10% in the past year and by 30% in the Pacific Northwest alone. US exporters are offering beans at $560 at NOLA, compared to Brazil: $535; Argie: $543; India: $530; and NOLA DDGS: $300. Jan soybean futures are $20.02 on the Dalian exchange and meal futures are $528.15. South America's Argentine farmers have less than 5% of the crop planted, compared to the 5-year average of 12%, because of serious drought issues. The USDA ag attaché in Argentina increased his forecast for soybean production to 57.5 mmt compared to the USDA Sept forecast of 53.5 mmt. China is expecting to buy Argentine beans in April. The Outlook is that tight pipeline supplies are supporting futures and cash prices for beans, with an unusually strong basis for this time of year. Decatur is bidding 15¢ over Nov for beans, and the Nov/Jul inverse spread of 35¢ on the CBOT is causing some to rethink their storage plans and take advantage of the current demand. There is a strong pull for new crop beans by exporters as many Chinese ships are waiting to load at PNW ports.
1) Nov 13 beans closed at $12.66 down 14.25¢ for the day, down 34¢ for the week.
2) Jan 14 beans closed at $12.515, down 14.75¢ for the day, down 42¢ for the week.
3) Nov 14 beans closed at $11.4575, down 12.5¢ for the day, down 19.25¢ for the week.
· Wheat prices. With feed demand diminishing because of cheaper corn, the wheat market had been living on export demand, but that is now diminishing and prices are softening. Part of the reason is the increased global wheat production estimate from the International Grains Council. Export inspections were over 59 mil. bu. and sales were 48 mil. for the extended 3 week period when the government shutdown halted reports. Another reason is India's pricing puts its wheat under the US at Russian levels. Despite the slower pace, exports are still at 146% of the 2012 rate. The market quietly absorbed major news of US wheat sales to Brazil, and responded with a key bearish price reversal.
1) Dec 13 wheat closed at $6.6775, up .25¢ for the day and down 23¢ for the week.
2) Mar 14 wheat closed at $6.7975, up .25¢ for the day and down 22¢ for the week.
3) Jul 14 wheat closed at $6.8475, up 1.25¢ for the day, and down 16.75¢ for the week.
·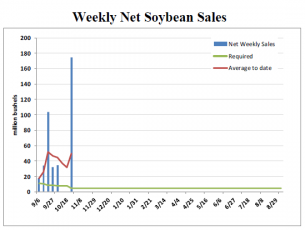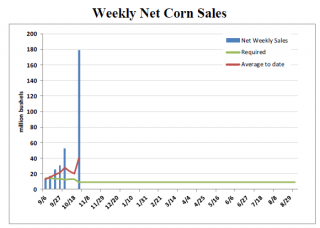 Due to the government shutdown, export sales reporting was absent for 3 weeks, and to catch up with the data, the USDA's Foreign Agriculture Service combined the missing data into one week. That created havoc for chart makers and readers, but the important part is to read the average to date in the marketing year. These charts are from CHS Inc.
· The harvest price for crop insurance for corn is $4.39--$1.26 under the spring guarantee. Since the harvest price is 78% of the spring guarantee, a farm which produces a yield that equates to its actual production history will be getting a crop insurance check if your coverage level is 80% or more. At a 180 bu. APH, a 180 bushel average yield would get $22 per acre; and 85% coverage would gain a $72 payment. Lower yields would draw higher checks. Higher yields would not likely receive any crop insurance checks. The 22% drop in price triggers an indemnity payment on 80% coverage without need for a further yield decline.
· The harvest price for crop insurance for soybeans is $12.87, which equates to the spring guarantee. Without any help from the price factor in the crop insurance indemnity formula, a producer would only get a payment on soybeans based on yield declines. An operation with 80% coverage would have to see a more than 20% decline from an APH yield for any soybean indemnification. 85% coverage would need at least a 15% yield decline.
· Financial vulnerability is being forecast for the 4% of farms with over 90% of their acreage rented and at a rate of more than $25 above their county average. That forecast is from IL ag economist Gary Schnitkey who says, "Commodity prices likely will be lower in the next several years than they have been in the past several years. As a result, per acre returns will decline, decreasing the ability to pay high cash rents from returns. This situation may require some farms to adjust. Those farms with over 90% of their acres cash rented and having farm-minus-county cash rents over $25 per acre may face the most financial pressures."
· How would a $1 cut on the price of corn affect your operation? That price drop could happen says Jeff Lautt, CEO of Poet Refining, one of the largest ethanol producers. He and other biofuel supporters have been heavily lobbying the White House Office of Management and Budget about the EPA's consideration of rolling back the amount of ethanol to be blended into gasoline this year from 14.4 bil. gallons to 13 bil. Lautt told OMB, "You would be sitting on the heels of a potential farm crisis. It would be gutting the pure, core intention of the RFS."
·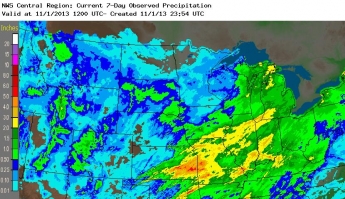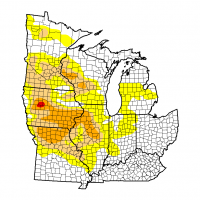 Over half of the Cornbelt remains in the grips of the drought. The actual amount is 50.37% compared to 51.57% last week, but substantially higher than the 18.90% at the end of July. Late week showers were not tallied in the Drought Monitor reporting period. In the Plains, dryness continued, but relief was recorded in the eastern region of ND and in KS. The National Weather Service recorded 3-4 in. rains that swept across a significant part of the western and central Cornbelt.
·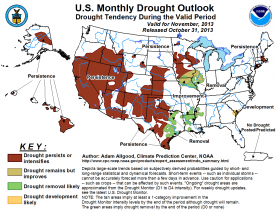 For November, NOAA projects a continuation of the drought conditions for the northwestern portions of the Cornbelt. However, the Climate Prediction Center believes a large portion of the drought area in IL, IA, and MO will see some needed relief. Some of the region will receive enough moisture to be removed from the drought designation by the end of the month and more will see improvement. However, a large portion of IA, and regions in MN and WI will see the drought persisting.
·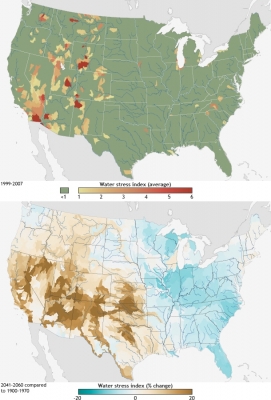 Will your watershed be stressed in the latter half of the century? NOAA has completed its projection of watersheds that will have more demand for water than supply. Demand is from agriculture, municipal use, or cooling for power plants. The study only looked at supply, which means it didn't account for population growth, which would increase demand if water use rates stay constant. But it also didn't account for any changes made to conserve water in households, power plants, or agricultural activities, which would reduce demand. Blue is positive, but the brown area is concerning.
· 157 scientists across the state of Iowa have signed the Iowa Climate Statement 2013 which says, "Our climate has disrupted agricultural production profoundly during the past two years and is projected to become even more harmful in coming decades as our climate continues to warm and change." Specifically, the statement says, "The increase in hot nights that accompanies hot, dry periods reduces dairy and egg production, weight gain of meat animals, and conception rates in breeding stock. Warmer winters and earlier springs allow disease-causing agents and parasites to proliferate, requiring the greater use of pesticides."
· Farm Bill conferees began their work on Wednesday—not only with disagreement over farm and food policy—but a disagreement over who should be involved in the tough decisions and how often the committee should meet. They have 16 legislative days before the end of the year to reach a House-Senate compromise and get the legislation through both chambers and to the President before permanent law and parity prices set in Jan. 1. Disagreements:
1) SNAP funding—3 years with a $3.9 bil cut per year or 5 years with a $450 mil. cut per year. The President has offered to meet with committee leadership to reach an early agreement.
2) Safety net plans vary widely. The House's Price Loss Coverage ties high target prices to 2013 planted acreage and gives farmers a one-time choice between that and a Revenue Loss Coverage program similar to ACRE. A shallow-loss program is added to the PLC option.
3) The Senate's Adverse Market Program has market-based target prices based on a moving average, but they are not connected to planted acreage. The Agricultural Risk Coverage program covers a percentage of current year losses. The shallow loss program is added.
4) The Senate has a means test on crop insurance that raises premium costs 15% for farmers with an AGI over $750,000. The House has directed Ag Chair Frank Lucas to adopt that program, but Lucas opposes means testing and took the directive "under advisement."
5) The Senate also ties crop insurance to conservation compliance and farm groups have said "OK," but not with a means test and time to correct conservation problems before penalties.
6) The House has eliminated the 1938 and 1949 permanent law from its proposal and wants its current plan as a "forever" Farm Bill. The Senate has kept parity prices as a motivator.
·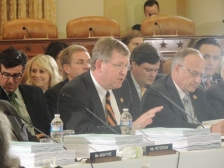 Marking his territory, House Ag Committee Chair Frank Lucas, who is also chairing the conference committee, began by saying, "I live in a part of the country where bad policy nearly destroyed the way of life for the people in my district. I don't plan to be a part of a process that creates bad policy for agriculture and rural America. A safety net must be written with bad times in mind. A farm bill should not guarantee that the good times are the best, but rather that the bad times are manageable. Let's work together to get our work done."
·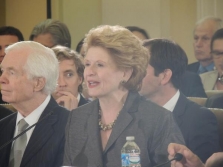 Marking her territory, Senate Ag Committee Chair Debbie Stabenow said, "The Senate agrees with the House that our focus should be on reforming and strengthening crop insurance. We have heard from the beginning that risk management was the key priority of farmers and ranchers all across the country, and our bill reflects that by expanding crop insurance to cover more farmers and more kinds of crops. We also agree with the House that it is important to have an effective, permanent livestock disaster assistance program. Between the droughts of last year and the early snow storms in the Dakotas, we have seen the importance of having this disaster assistance in place. I am confident we can work through these difficult issues and find common ground."
· As lobbyists are hard at work trying to buttonhole the 41 members of the conference committee, it may be appropriate to direct your attention to a widely read Capitol publication that identified the most influential lobbyists in Washington. Unlike several years ago when many farm organizations would have been mentioned, the only remnants are 2 ethanol groups and one Farm Bureau lobbyist. However, there are many of agriculture's frequent opponents which are identified at the top, including oil and some radical environmental groups.
· Many farms with typical amounts of fuel storage will be exempted from EPA regulations under legislation set for a vote in the House to change the Spill Prevention Control and Countermeasure regulations. If the House and Senate approve the change, farms with less than 10,000 gallons of above-ground fuel storage would be exempt. Farms with up to 20,000 gallons could self-certify, but operations above that or more than 42,000 gallons of underground tanks would have to have a professional spill control plan.
· There is profit to be made in shipping your own grain to individual buyers abroad; however transportation is a significant cost. It will vary as widely as the basis, depending on availability of containers and availability of trains. The last issue reported BNSF spot freight as low as $1400 per car, this week spot cars were offered at $2900. Containers cost $1500-$1700 for a 20-foot box, and $2500 for a 40-foot container, all depending on steel prices.
· Agricultural transportation is becoming as complex as the weather. Mike Steenhoek, head of the Soy Transportation Coalition, says the large grain harvest is taxing the entire system.
1) Rail costs have surged due to strong export demand for soybeans and wheat.
2) Rail speeds have been slow in the western US due to delayed BNSF track upgrades.
3) A larger than usual number of ships are in the queue to be loaded at PNW terminals.
4) Rail brokers are having to pay higher freight costs for shuttle trains due to delays.
5) Barge freight has increased because of delays at the Olmsted Lock on the lower Ohio.
· Water levels on the Mississippi River continue to decline and are at depths in many locations that do not provide the necessary 9-foot draft depth for a loaded barge. The Army Corps of Engineers at Memphis reports 6 loading points less than 11 feet, and 2 less than 9 feet. Funds just have been approved for dredging, and recent rains may provide marginal relief. Upriver at St. Louis, the hydrologic gage predicts declining levels with potential barge restrictions.
·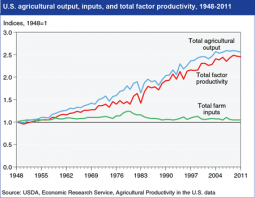 Downturn. Total agricultural output and productivity have declined for the past 4 years, according to the Economics Research Service. "The level of US farm output more than doubled between 1948 and 2011, growing at an average annual rate of 1.49%. Aggregate input use increased at a modest 0.07% annually over this period, so growth in farm sector output was almost entirely due to an increase in productivity. Growth in output has not been constant—it slowed to an average annual rate of 0.78% during 2000-07 and was negative between 2007 and 2011, reflecting adverse growing conditions.
· Were you one of the 70% of pork producers who got out of the business between 1992 and 2009? USDA reports the number of US hog farms dropped that much while the hog inventory was stable. The average hog farm grew from 945 head sold per year to 8,389 head. In 1992 only 22% of hogs were finished in a feed-to-finish operation, but that grew to 77% by 2004, while the share of production of farrow-to-finish operations fell from 65% to 18%. And from 1992 to 2004 the number of hogs produced under contract grew from 5% to 67%.
· The October Cattle on Feed Report reported Sept marketings that were 106% above year-earlier levels, above the market expectation of 104%. Analysts said that would boost Oct-Dec futures prices, since that reduced the number of cattle on feed on Oct. 1. Sept placements into feed lots were 101% of 2012 levels, matching forecasts of 2.03 mil. head in feedlots. The overall number of cattle in feedlots is down 8% from 2012 levels, matching trade estimates.
· The livestock crisis in South Dakota could cost the economy some $1.7 bil., says the South Dakota Stockman's Assn. After the Oct. 4th blizzard that killed tens of thousands of head of cattle, the loss will impact area businesses, including feed stores, veterinary services, banks, and other main street business relying upon the livestock economy. The loss was not covered by the federal livestock indemnity program which expired with the Farm Bill on Oct. 1. Several charitable efforts have raised $400,000 to date to provide assistance to the cattlemen.
· A 60 bu. soybean yield is great, but you have to wonder what it could have been, without all of the soybean cyst nematodes in the soil that cut your yields. SCN populations were quite high in 2012, and those fields will be planted to beans again in 2014. If you want to know how bad your SCN population is, now is the time to sample soils and find out. IA St. provides instructions how to collect a sample, which will need to be sent to a testing lab.
· If your 2014 seed decision has not yet been made, review the results of university-based tests which are widely replicated and are now being reported. Cornbelt state seed trials have either been reported, or will be reported, at these links: Illinois, Indiana, Iowa, Kansas, Michigan, Minnesota, Missouri, Nebraska, North Dakota, Ohio-corn-beans-wheat, South Dakota, Wisconsin-corn-beans & wheat. 2013 results will soon be posted if they are not yet.
· What are your thoughts about P & K for next year, after the agronomic challenges of the past 2 years? IL agronomist Emerson Nafziger suggests an example of a 45 bu. bean yield in 2012 and a 180 bu. corn yield in 2013. He says, "This would produce 2-year P removal totals of 115 lb P per acre under the old (book) values, and only 80 lb P per acre using the new values. Using the old values would calculate removal of 107 lb K per acre, and the new values would calculate to 87 lb K removed per acre." He suggests averaging the two, to split the difference for 2014 application, unless your test levels are low, dictating more P & K.
Cornbelt Update is a weekly publication by S2LS Ag Communications and Consulting. Republication or distribution is prohibited without prior permission. Subscription fee is $75 per year. Address subscription requests to: StuAgNews@aol.com © 2013

Posted by Stu Ellis on 11/05 at 04:08 AM | Permalink
Post a comment