Wednesday, October 09, 2013
Drying Tips for 2013 Corn With An Attitude
Tweet
Just like the stars in the sky, traveling around the Cornbelt you cannot escape the hum of dryer fans on grain bins full of corn. The planting process challenged your patience, the maturity challenged your patience, and dry down challenged your patience. With drying costs that are less expensive relative to other wet harvest years, many farmers have thrown in the towel and moved ahead harvesting corn with several more points of moisture than they would like. That has necessitated firing up the heaters on the grain for the first time in two years. But drying corn with an attitude in October will also require patience.
Grain drying in October requires a special constitution. Many of the typical rules of thumb have long expired and success may require some creativity along with care and persistence. That is the advice of Ken Hellevang, quality specialist at North Dakota State University. Aggravating the issue is the variable moisture throughout the field and in the grain as it enters the bin. Hellevang says, "Drought conditions usually lead to large variations in moisture content at harvest time, with ranges of from 15 to 25 percent in the same field. In fact, kernel moisture content, size and test weight likely will vary on an individual cob as well. With varying moisture contents in the field, adjusting the combine for conditions will be more difficult, which may contribute to more fines in the corn."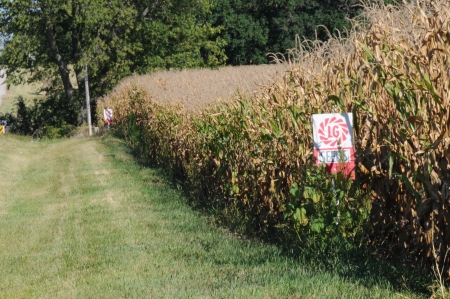 Fines will spoil faster since they can absorb more moisture, and they are created not only with aggressive harvesting but also when they are put into a bin. Since they will impede airflow, the air will travel around a core of fines and they may never dry properly.
Another issue is with the moisture variability in the corn, and it will enter and leave a dryer with variable moisture. Helevang says a dryer may take out 6 points of moisture, but if the corn is going in from 15% to 25% moisture, it will come out in a range of 11% to 19%. He says the use of a fan will help more moisture from wetter to drier kernels, but without airflow the moisture migration will not occur. To help balance the moisture content, he recommends running the aeration fans longer than is required to cool the grain. The moisture may not equalize fully, but it will become more uniform.
If the corn is stressed and has a low test weight, the shelf life is shorter than normal; subsequently more diligence is needed in the drying and storage process. He suggests drying low test weight and stressed corn a percentage lower in moisture content than normal because of greater variations of moisture content in the grain mass and increased kernel damage and broken cobs, which could magnify storage mold problems.
October drying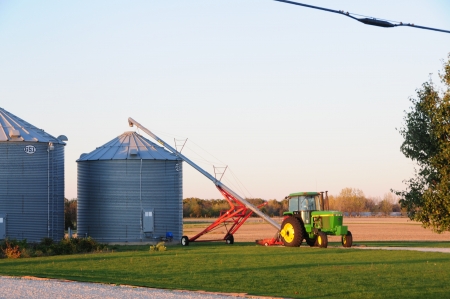 With temperatures dropping steadily with the season, the air holds less moisture and will absorb less as it surrounds the corn, whether it is in the field or the bin. The result is much slower drying rates. Hellevang says harvested grain can be stored at higher moisture if it is kept cool with aeration:
The allowable storage time doubles for each 10 degrees that the grain is cooled. Corn at 22% moisture can be stored for 190 days at 30 degrees, but only 60 days at 40 degrees. Aeration fans should be operated to cool the grain to near freezing as quickly as possible. The grain can be cooled later to 20-25F for winter storage.
Corn can be dried with an airflow rate of 1.35 cubic feet per minute per bushel from 21% to 15% in about 36 days under normal October conditions of 47F and 65% relative humidity.
With normal November conditions of 27F and 73% relative humidity the corn will dry to 18% moisture in 70 days.
Warming the air 5 degrees permits drying the corn to about 15% moisture, but it still will take about 52 days.
Adding more heat will cause the corn to be dried to lower moisture content while shortening the drying time by only a couple of days.
Drying speed is primarily related to the airflow rate and final moisture content is related to the air relative humidity which is reduced by adding heat.
Corn can be cooled to 20-25F for winter storage and dried in the spring. The drying fan should be started in the spring when daily average temperatures are about 40F.
Summary:
The 2013 corn crop may be a challenge to dry because of great variations in moisture from kernel to kernel. Drying may reduce the overall moisture, but not the variation, which can only be resolve with airflow through the grain. Because of the cooler air in October, reduction of moisture will take longer, since the cooler air moving through the bin will absorb less moisture. The grain can be kept over winter at a higher than desired moisture, if it is cold, but will present issues that need to be addressed when the air warms up in the spring.
Your 2014 checklist for success:
1) Get a soil test and recommendations from the Texas Soil and Plant Lab.
2) Fill your planter with LG Seeds.
3) Call Koehl Bros. and order a new bin, because you will need it!
Posted by Stu Ellis on 10/09 at 09:53 PM | Permalink
Post a comment