Monday, September 23, 2013
Management at harvest and during storage will ensure grain quality.
Tweet
You wish your Dad was still around because you would like to ask him if he farmed in a year that topped 2013 for production issues. Chances are, he would have to think back quite a bit to come up with something close. Late planting, wet soils, slow maturity, threat of early frost, drought, rapid maturity, slow drydown. You can probably put more chapters in the 2013 production history book. And nearly all of them have the potential to create issues of grain quality when you either get it in storage or at delivery time.
Although the crops grew under the same weather conditions, Iowa State University grain quality specialist Charles Hurburgh says, "The quality and management forecast now differs sharply between corn and soybeans." Hurburgh attributes that to the timing of the weather factors and the development of the corn and soybean crops at the time. He says corn quality is driven by conditions during grain fill, and kernels being small and shallow; the extent of kernel fill will be variable depending on timing of rains. Corn quality will be a factor that could present storage problems.
1) Test weight is one indicator of storability
2) Moisture variation in the grain will be a second influencing factor.
He warns, "Recognize that early harvest will happen in warm weather. Rapid drying and cooling will be critical to preserving the storage life of 2013 corn. Actions in the first few days after harvest can either preserve or waste the future storage life of grain."
Soybeans will be small, but likely dry when they are harvested, unless they were planted late, matured late, and will be subject to frost that will kill the plant and leave bits of green vegetative material in the grain at harvest.
Do you have fungal problems in your field? "Haven't checked, don't want to know," may be your response. Hurburgh recommends scouting fields for ear rots, and if more than 10% of the ears show signs of mold it should be harvested as soon as possible. He says any wet weather during the dry down phase may increase the risk of toxin production, since it would favor the growth of the fungus.
Harvesting corn with fungal issues and potential toxin production needs special management.
1) Immediately cool the infected grain and ensure it is dried below 16%.
2) Have adequate aeration of 0.1cfm/bu or more
3) When the outside air changes 10-15 degrees run a cooling cycle through the grain.
4) Get the grain below 40F as soon as possible.
5) Remove the core to remove the fines and the potential for mold growth.
6) Inspect the grain and monitor its temperature and moisture weekly into December.
7) If the temperature of the grain rises, that is an indication of spoilage.
8) Stay within temperature and moisture guidelines.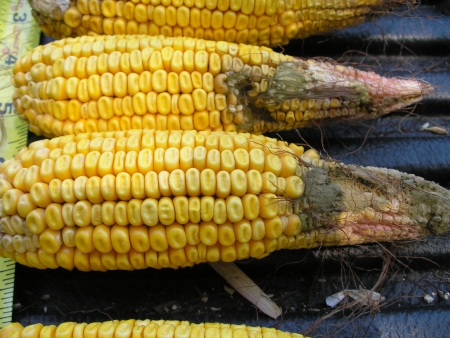 Grain management at harvest will reduce the need for storage management.
1) Recalibrate your yield monitor to accommodate seed size and density.
2) When testing moisture, take at least 3 samples and average them.
3) Check grain moisture frequently entering and leaving the dryer.
4) Check moisture of freshly dried grain and beware it will read lower than it is.
5) Keep records of where grain originated for tracking later problems for insurance.
6) Check test weight of grain for each new field opened and sell lighter grain first.
7) Expect hot spots in storage, since a dryer cannot even out variability of moisture.
8) Do not harvest late planted corn in wet spots at the same time as the entire field.
Summary
The unusual weather of 2013 has created a wide variation of quality in grain, even in the same field and row. Some test weights will be low and should be sold or delivered as soon as possible. Higher test weights have longer storability. Keep grain monitored for temperature and moisture and ensure that it rapidly cools off to ensure a longer shelf life in your bin.
Your 2014 checklist for success:
1) Get a soil test and recommendations from the Texas Soil and Plant Lab
2) Fill your planter with LG Seeds
3) Call Koehl Bros. and order a new bin, because you will need it!
Posted by Stu Ellis on 09/23 at 10:16 PM | Permalink
Comments
Posted by: Microwave Moisture Sensor at February 24, 2014 1:01AM
Post a comment