Wednesday, August 14, 2013
An Alternative To Higher Cash Rent For 2014
Tweet
If you are renting farmland, have you opened up the discussions with your land owner about rental arrangements for 2014? If that has occurred, did the land owner express expectations for more cash rent, either because of higher land values or because they heard farmers were making a lot more money and could pay more rent? As this report has expressed on prior occasions, 2013 revenues will be less than they were in 2012, and 2014 revenues are likely to be even less if another big crop is produced next year. Operators will expect to push cash rent down for next year, and owners will expect cash rent to go up. There may be a way for both of you to achieve your goals.
Land owners have heard that cash rents have not kept up with either land values or commodity revenue per acre, and undoubtedly want a greater share of the action. But there is always the old question of "What is a fair rent?" Many operators have poured over their cash flow projections and have been unable to find where they can afford to pay more cash rent. But paying more cash rent may not be possible if an operator wants to remain in the black and still feed his family. An alternative is suggested by University of Illinois farm management specialist Gary Schnitkey, which will allow the owner to have more cash without the operator writing a bigger rent check. The alternative is a shift to a share-rent leasing arrangement. Schnitkey says based on data on fairly productive farms, there is a greater opportunity for land owners to make substantially more money by agreeing to a 50-50 crop share lease with the operator. Such a lease, which is a common arrangement, provides 50% of revenue to the owner, and the owner also pays 50% of crop production expense. The operator supplies labor and equipment and the owner is responsible for paying the taxes and marketing his or her commodities.
Schnitkey says there is no data available on the owner's share of the farm records he studied, so he looked at operator records, calculated 50% of crop sales revenue and 50% of crop input costs. The finding was that owner income from a 50-50 crop share lease returned substantially more revenue to the owner than a cash rental arrangement. Schnitkey says, "Average cash rents as reported by NASS increased (over time). Cash rents were $179 per acre in 2008, $183 in 2009, $189 in 2010, $203 in 2011, and $231 in 2012. Overall, average cash returns have been below share-rent returns. From 2008 through 2012, cash rents averaged $197 per acre, compared to share-rent returns of $298 and $272 per acre for high- and low-productivity farmland, respectively."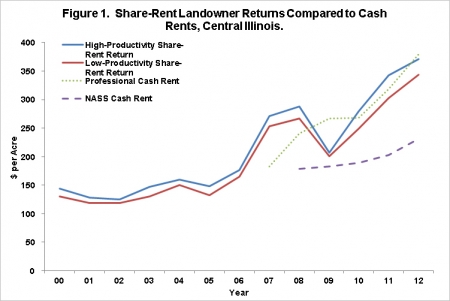 As indicated by the dashed line—which depicts cash rents—the average of cash rents are well under the level of income that crop-share owners would have received.
Summary:
Land owners will likely seek more cash rents for the coming farm leasing year, but the prospects for crop revenue will make that a precarious agreement for farm operators. One potential solution is to offer the owner a crop share lease. In a typical share rent in recent years, the owner would have received much more income than a straight cash rent lease, and the outcome would have benefitted the farm operator with a lower risk.
Posted by Stu Ellis on 08/14 at 11:37 PM | Permalink
Post a comment