Wednesday, June 05, 2013
Is your budget prepared for higher production costs and lower commodity prices?
Tweet
If the commodity market is satisfied there will be more than enough corn and soybeans produced in 2013 to fulfill diminished demand, commodity prices will be significantly lower than what has been offered during years of increasing demand and finally a drought. Normal production and lower demand because of the demand destruction from the drought could easily result in prices that are 25 to 33% lower than the past year. But as crop prices fall, will crop production expenses fall along with them. Input suppliers have been raising prices in lockstep with grain prices, but will that trend continue when prices fall. How will your budget fare if costs and returns go in opposite directions?
Economic studies have indicated that land prices have followed commodity prices, but not as far and not as fast. However, non-land prices may be more closely aligned with commodity prices, and they are increasing says University of Illinois economist Gary Schnitkey. Looking at data from thousands of farm records, Schnitkey says non-land costs continued to increase in 2012, averaging $581 per acre for corn and $353 per acre for soybeans. Those reflected an increase of $78 for corn and $50 for soybeans.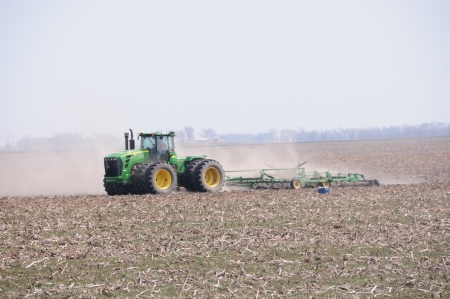 Schnitkey traces the increases back to 2005, when non-land costs were $278 for corn and $187 for soybeans. Both corn and soybean non-land costs dropped from 2009 to 2010, but resumed their climb from 2010 to 2011. He says, "The period of large increases corresponds to the period of higher corn and soybean prices that began in 2006. A central question is whether non-land costs decrease will occur when commodity prices decrease."
So what has caused the increases in non-land costs? Schnitkey points to fertilizer, seed, and machinery expenses as the basis for 75% of the trend in higher non-land costs.
From 2005 to 2012 the per acre cost of fertilizer rose from $78 to $200. Schnitkey believes there is a potential for the cost of fertilizer to decrease because of added production capacity for nitrogen, which is the primary cost of fertilizer. He says in the last two production seasons overall fertilizer costs increased while nitrogen costs remained relatively stable. He concludes that may indicate producers built up levels of potash and phosphate which could be drawn down in future years.
From 2005 to 2012 the cost of seed per acre rose from $43 to $108. But Schnitkey says for seed costs to decrease, the price of seed corn and seed beans will have to decline. And he adds that would cause the profits of technology companies to decline, which is unlikely along with seed costs going down.
As the capital expense for new and larger machinery has gone up, so has the annual depreciation for machinery. Schnitkey says from 2005 to 2012, depreciation for machinery has increased from $20 per acre to $35 per acre. The economist says lower commodity prices will lead to reductions in machinery purchases, and overall depreciation could decline on a slow trend.
Summary:
In the past 8 production seasons, non-land costs have risen substantially for both corn and soybeans. Factors contributing to the trend have primarily been fertilizer, seed, and machinery depreciation. Some input costs could increase, while others will decrease. However, farmers must prepare for the prospect of rising production costs at the same time as commodity prices decline.
Posted by Stu Ellis on 06/05 at 11:42 PM | Permalink
Post a comment