Tuesday, April 09, 2013
Special Feature: Cornbelt Update Newsletter
Tweet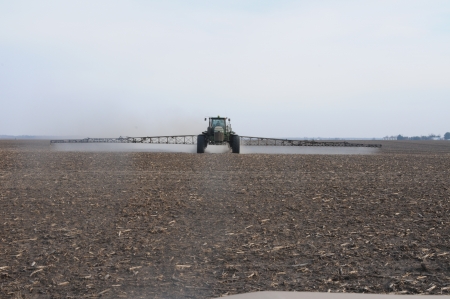 Photo of Pistorius Farms, Boody, IL
A weekly Cornbelt digest of marketing, economic, agronomic, and management information.
Corn prices. The market was entirely under the influence of the March 1 stocks report from the prior week, and continued the losses which removed $1.06 from the value of May futures. But the basis remains strong and processor-delivered corn was +40¢ over May. The acreage report, which projected expected numbers, still cut 35¢ from the value of Dec corn. Processor bids for fall corn take off another 25¢. With a -25¢ basis now, your marketing plan should protect against a deeper basis with a large crop. The continuation of cool, wet weather across much of the Cornbelt will soon begin to be felt by the market as a reason for planting delays and reduced yields. So far that has not been a significant factor, but with rain predicted for the current week, planting will shift beyond the April 15 date for the greatest yield potential.

Corn inspected for export the prior week totaled over 19 mil. bu. USDA also reported 14 mil. bu. in old crop sales and barely over 1 mil. bu. in new crop sales. As of Thursday, USDA reports 22 mil. bu. were shipped in the current week. There were rumors of China looking for corn bids, but US corn is still priced at a premium to new crop supplies available from Brazil. With corn planting continuing to move northward, some farmers are wondering if poor-looking wheat stands may yield more money than corn with higher wheat and lower corn prices. While that calculation would not pan out with the stronger basis in the heart of the Cornbelt, it could in marginal areas and that could result in fewer acreage shifts from wheat to corn.

Ethanol production rose marginally, but is above the level of 90% of 2012 production which USDA projects for the current marketing year. Late week action saw traders consolidate ahead of the April Supply and Demand Report, which is set for Wednesday. The issues in that report are how the USDA will handle the additional grain found in the March stocks report. However, in past years, USDA made those adjustments in June. Informa Economics raised its projection for the 2013 global crop to 976 mmt, compared to the 851 mmt produced in 2012. Part of the increase was due to higher corn production expected for China in 2013.
1) May 13 corn closed at $6.29, down 1¢ for the day and down 67.75¢ for the week.
2) Dec 13 corn closed at $5.35, down 5¢ for the day and down 3.5¢ for the week.
Soybean prices. Soybean prices have moved in sympathy with corn, losing 99¢ since the USDA's acreage and stocks reports. While those numbers were not bearish for soybeans, the drop in corn prices means soybean buyers don't have to pay as much to ensure there is sufficient acreage to guarantee enough of a crop. A speed-up in loading at Brazilian ports has also contributed to the weakness in prices. After losing several shiploads of soybean orders to Argentina, Brazilian port officials saw the writing on the wall.

The US is still exporting some soybeans, and inspections totaled 16 mil. bu. for the prior week, but not the 50-60 mil. bu. orders filled weekly earlier this year. Current week exports were reported at 17 mil. bu. with old crop sales at 14.4 mil. bu. and new crop sales at 13 mil. bu. Some of the cut back has been due to tight supplies, and while USDA found 1 bil. bu. of soybeans on hand at the first of Mar. 98% of USDA's projected export sales for the marketing year have already been contracted. But, it was a huge week for product exports of 339.9 mil. lbs of soybean oil and 1.232 mil. tons of soybean meal.

Decatur processor offers a +44 basis bid over May futures to obtain beans. Both beans and corn may see much higher cash bids than futures prices due to tight stocks. Keep an eye on the bird flu issue in China, which could have a detrimental impact on grain purchases if China has to reduce infected pork and poultry numbers. Informa Economics estimated the global soybean crop in 2013 at 276 mmt, compared to 268 mmt last year, but that is a slight drop due to fewer soybeans to be produced in China in 2013 and a slight drop for Brazil. Both Brazil and the US are forecast at just over 3 bil. bu.

1) May 13 beans closed at $13.6175, down 10.25¢ for the day and down 43¢ for the week.
2) Nov 13 beans closed at $12.28 down 5¢ for the day and down 23.5¢ for the week.

Wheat prices. Wheat was the only gainer for the week, helped by diminished prospects for the 2013 crop. Demand had been strong for livestock feeding and for ethanol refining; however the collapse of corn priced that commodity back underneath wheat. However, the strong corn basis still helps the wheat market attract orders. Wheat recorded a healthy 26 mil. bu. of exports inspected the prior week. Current week export shipments were 19 mil. bu. but sales were down at 5 mil. bu. for the old crop and new crop sales were 6.4 mil. bu.

Rumors of a large Chinese purchase of US wheat could be confirmed in the coming week. Traders continue to watch the weather, which potentially hurt wheat in OK & TX last week. Agronomists say detailed results of the freeze impact will be known later this week, but were beginning to show up late last week. Beneficial rains have been recorded in some regions, but were not widespread, and have been avoiding the parched areas of KS and NE.

1) May 13 wheat closed at $6.99, up 5¢ for the day and up 11.25¢ for the week
2) Jul 13 wheat closed at $7.0425, up 4.75¢ for the day and up 13.25¢ for the week.

Here we go again. New trading hours go into effect April 8 for the CME's agricultural futures. Overnight Globex electronic trading hours will begin at 7 p.m. and run to 7:45 a.m. At 8:30 a.m. the Globex electronic trading resumes along with the open outcry pits. Both the pits and Globex will close at 1:15 p.m. The difference is elimination of trading from 5:00 p.m. to 7:00 p.m. About 11 months ago the CME expanded to 21 hours of daily trading to compete with the InterContinental Exchange, but many of the traders in Chicago said that was too long.

Is it corn planting time yet? Friday maximum soil temperatures at 4 inches under bare soil in Illinois were appropriate for corn planting throughout most of the state. However that was not the case for Iowa where only a handful of counties in the southwestern corner barely were in the 50 degree range. There were scattered reports of some corn planters in the field ahead of a 1.5 to 2.0 inch rain that was forecast.


But high daytime temperatures do not imply night temperatures that will be favorable also. Temperatures can vary as much as 20 degrees from day to night, and cold temperatures are detrimental to germinating corn seed. This (Pioneer) temperature graph indicated temperatures that resulted in a 25% stand loss, suggesting the temperature fluctuation stresses corn. In Mar 2012 15,000 record high temperatures were set, but in Mar 2013 there were 2,600 record cold temperatures set.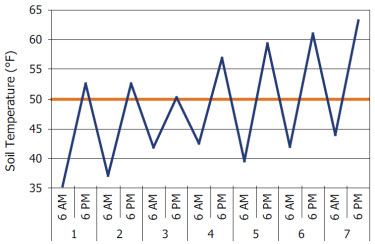 Cornbelt farmers with the itch to get into the field, hoping to plant corn at the optimal time, may have to scratch a bit longer. The latest 7-day forecast from the National Weather Service indicated some substantial 1-2 in. rains were a strong prospect for the central part of the Cornbelt. Given low soil moisture, the prospect for rain may be more important than mid-April planting. The last several showers, and even the foot of snow from March 24, did not produce any runoff.
If you have flex acres this spring, keep a close eye on the relative prices of corn and soybeans. The price relationship has been changing and may justify shifting your cropping plan. IL ag economist Gary Schnitkey says corn prices have declined faster than soybean prices and based on forward cash bids the soybean to corn ratio has increased from 2.23 in mid-January to 2.39 in early April. The impact depends on the land you farm:
1) For both high and low productivity land, cont-corn is less profitable than C-S rotation.
2) On low productivity land, S-C rotations are more profitable than C-C rotations.

With low soil moisture in the western Cornbelt most analysts are not expecting production to reach USDA's estimates of 14.6 bil. bu. for corn and 3.38 bil. bu. for beans in 2013. IA St. economist Chad Hart says, "If we take 10% off those trendline yields, corn would average 147 bu. per acre and beans would be at 40 bu. per acre. Given the intended acreages, that would lead to 13.15 bil. bu. of corn and 3.05 bil. bu. of soybeans. So corn could still reach record production with yields roughly in line with 2011, but soybeans would fall off of record pace."

While crop prices have been in full retreat, Hart says they are still holding above USDA's early projections, "Both the 2013 corn and soybean crops have lost roughly a dollar per bushel since the 2012 harvest. Corn has taken the relatively bigger price hit, based on that ability to still reach record production with below trendline yields. But 2013 prices are still above production costs. Current futures for 2013 corn point to a 2013 season-average price around $5 per bushel. Soybeans are hovering around $12 per bushel."

What about nitrogen application this spring? IL agronomist Emerson Nafziger reports soil samples have shown higher levels of ammonium-N than expected. "It is clear that there was limited net conversion of ammonium to nitrate in the top foot of soil between mid-October and mid-March. Compared to some fall-to-spring changes in ammonium-N reported in the literature, we think that nitrification (conversion of ammonium to nitrate) and loss of fall-applied N have been less than normal this winter." He is urging spring sampling for N.

So how do you make a decision on the amount of nitrogen to apply? Nafziger says, to "Calculate lb. nitrate-N per acre (ppm of nitrate-N in the top foot times 4) and to subtract this from the normal N rate. It may be safer not to make any adjustments if nitrate-N is less than 10 ppm, since we would consider low levels to be normal. But as an example, finding 20 ppm in a sample would suggest a reduction of 80 lb. N per acre in the fertilizer N rate. That's conservative – 30 ppm would rule out any more N under the pre-sidedress N-test guidelines in use, but would mean lowering rate by 120 lb. based on what we're proposing here."

With the increase in rootworm resistance to the Cry3Bb1 Bt corn hybrids, will there be increased problems as many corn growers rely entirely on RIB (refuge-in-a-bag) this year? No, says IL entomologist Mike Gray, who says the 5% and 10% blends will ensure compliance with the refuge, and RIB has advantage over the 20% acreage set-aside in controlling the mating and dispersal practices of rootworm adults. He endorsed blends with pyramided toxins, and said there is no resistance confirmation to Herculex hybrids with the Cry34/35Ab1 proteins.

Are you using a soil insecticide along with your Bt hybrids to control corn rootworm? Mike Gray at the University of Illinois says nearly 50% of farmers indicated they would, and 25% felt it was cheap insurance in a time when some of the Bt proteins are not giving protection. He said the initial philosophy was that the use of Bt corn would reduce the use of insecticides, but that belief is fading. He says they protect corn roots, but don't manage adult populations.

It is not a good report from Nebraska where 49% of the wheat crop is rated poor to very poor. Hay and forage supplies are rated 59% short to very short, livestock water is 36% short, and topsoil moisture is 80% short to very short, as of April 4. An Extension photo shows where irrigation channels are being plugged by tumbleweeds lodging under bridges.

Are you planting a drought-tolerant hybrid? It has several differences from normal hybrids say OH St. agronomists. Those include, "a short anthesis silking interval (ASI, the time between the onset of pollen shed and silk emergence), delayed leaf rolling and senescence (leaf greenness), reduced barren and nubbin ears, better ear fill (greater kernel set and reduced abortion under stress), improved root development and architecture and photosynthetic/transpiration rates under stress." The genetics are more complex.

The OSU agronomists said the drought-tolerant hybrids did well in 2012. At the NW Ohio location planted May 3, 2012 which was subjected to the greatest drought stress, the drought-tolerant hybrids out-yielded the drought-susceptible hybrids by 8 -10 bu/A (about 5% averaged across plant populations). At locations where drought stress was limited, the drought-tolerant hybrids generally yielded more or about the same as the susceptible hybrids.

Fascinating—just fascinating is the Cropspotters Newsletter report on the logistics problems of trucking Brazil's soybeans to the ports at Santos and Paranagua, the problems at the ports, and the slowness of getting ships loaded. Here are just of few of the major issues:
1) Brazil has storage for only 80% of the crop and the rest must be immediately shipped.
2) The logistics crisis lowered the price of soybeans 49¢ on the world market.
3) Transportation costs $70 per ton in Brazil, compared to $20 in the US & Argentina.
4) Port problems were so extensive, soybean exports dropped by 40% in Jan/Feb from 2012.

The name is the same on the mailbox, but USDA sees your operation a bit differently, or at least you will be in a different pigeonhole. Because of commodity price inflation and a shift to more production by farms with more than $1 mil. in sales, USDA has redefined farm types:
1) Small family farms, used to be less than $250,000 in sales, now less than $350,000.
2) Retirement farms, operator is retired, but with sales under $350,000.
3) Off-farm occupation farms, main job elsewhere, but with sales under $350,000.
4) Farm occupation farm: low sales, used to be under $100,000, now less than $150,000.
5) Farm occupation farm: moderate sales, used to be $100,000-$249,999, now up to $349,999
6) Large scale family farms, used to be $250,000 or more, now $1,000,000 or more.
7) Large scale family farm: large, used to be $250,000 to $500,000, now $1 mil. up to $5 mil.
8) Large scale family farm: very large, used to $500,000 or more, now $5 mil. or more.
9) Nonfamily farms: no financial parameters either previously or under the new typology.

This is not news to your wallet, but it indicates the timing of the drought. USDA says, "A striking aspect of the 2012 drought was how the drought rapidly increased in severity in early July, during a critical time of crop development for corn and other commodities. From mid-June to mid-August, the share of farms under severe or greater drought increased from 16 to 43% of all farms. Total cropland under severe or greater drought increased from 20 to 57%, while total value of crops exposed increased from 16 to 50%."

The last issue showed the substantial corn expansion in the NW part of the Cornbelt. Is hog production following? IA St. economist Lee Shultz says, hog production from 1994-2013 was remarkably stable in geographic dispersion, but "Iowa and Minnesota may slowly be increasing an overall relative industry role. The past pattern of increased comparative advantage with respect to corn and soybean production and slaughter capacity increase the likelihood of region-level expansion. Of course a host of issues, namely the current ongoing weather concerns, demand uncertainty, social pressure, etc., could potentially alter this trajectory."

After the USDA 3/28 Hogs & Pigs Report, IA St. economists projected pork prices and said, "For the spring and summer, hog prices look be back into the mid to high 80's as the general meat market heats up. However, even during these times of seasonal highs, prices may be limited by the anticipated supply of pork on the market. (IA St. expects) a little more bullish market than the futures (expects) in the 4th quarter of 2013 and 1st quarter of 2014.

Meat demand took a couple of hard hits this week. The US jobs report indicated a half million people gave up looking for jobs in the past month. People with jobs have money and make their first stop in the meat case at the grocery store. Also the Bank of Japan announced a $1.4 trillion economic stimulus plan that will reduce the value of the yen, making imported US meat products more expensive. Japan buys 10% of US ag exports, including 760 thousand tons of beef and 1.2 mil. tons of pork, all of which will suffer from yen devaluation.
Cornbelt Update is a weekly subscription publication by S2LS Ag Communications and Consulting. Republication or distribution is prohibited without prior permission. Subscription fee is $75 per year. Bulk subscription rates are also available for agribusinesses wishing to have branded communication with their clientele. Address subscription requests to Stu@farmgateblog.com © 2013

Posted by Stu Ellis on 04/09 at 08:24 PM | Permalink
Comments
Posted by: John Croft at April 15, 2013 3:03PM
Post a comment