Wednesday, March 06, 2013
Agriculture, the Fed is watching you!
Tweet
The Federal Reserve's Federal Open Market Committee meets March 19 and 20 to discuss the latest updates on the US economy and agriculture will be on the agenda. The economists in the various Federal Reserve District Banks have provided plenty of fodder for deliberation, extending from challenging economic times for farmers to very good economic times for farmers. Their research is included in the "Beige Book" which reports the economic conditions of the banking districts, gathered by the Fed economists.
The Beige Book—so named for no other reason than the color of its cover—does not really reflect what the Fed's economists and policy setters think; but only the information prepared for their deliberations. It ranges from agriculture and manufacturing to housing and natural resources, as well as commercial activity and tourism.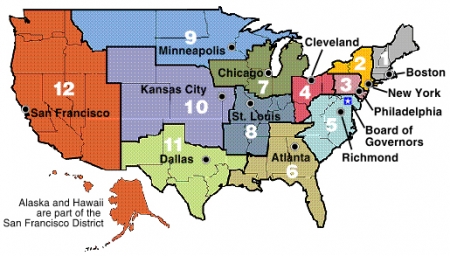 The following reports are from the various district banks within the Federal Reserve:
FIFTH DISTRICT–RICHMOND
The agricultural sector remained strong, while energy production declined slightly. Results of our most recent agricultural survey indicated that farmland values were above both the previous quarter and year-ago levels. In addition, most contacts noted that 2012 was one of the best years that farmers have ever had; they indicated that higher commodity prices had resulted in stronger cash positions. Several forestry contacts reported a pickup in lumber prices due to the uptick in the housing sector.
SIXTH DISTRICT – ATLANTA
Recent rains improved drought conditions in Alabama and Georgia, while Florida saw dry conditions expand over most of the state. Prices for corn, soybeans, beef, broilers, and eggs were higher than year-ago levels while the price for cotton was down. Contacts continued to report that groups with no agriculture experience were looking to buy farmland as they seek better investment returns.
SEVENTH DISTRICT—CHICAGO
Snow and rain continued to boost topsoil moisture levels, although depleted subsurface moisture remained a concern for farmers. Between engineering work on the Mississippi River, higher water levels, and low export demand for grain, congestion eased for barge activity. Corn and soybean stocks at grain elevators were even tighter than last year, as many farmers continued to store a share of their crops on hand in anticipation of higher profits closer to harvest this year. Input costs for planting have not changed substantially over the winter. Corn, wheat, milk, hog, and cattle prices dipped during the reporting period, while soybean prices moved a little higher. The prices for corn and soybeans in February become the benchmarks for potential compensation from crop revenue insurance plans; these prices were high enough to guarantee that insured crop operations will cover their production costs this year. Lower feed costs aided the cash flows of livestock operations. Lower corn prices also led to higher ethanol production.
EIGHTH DISTRICT—ST. LOUIS
Annual crop production in the District's states declined for most crops in 2012. The District's states produced less corn, cotton, soybeans, and wheat in 2012 compared with 2011; in contrast, the District's states produced more rice and sorghum. The effect of the decline in production on farm incomes was partially offset by higher prices in the District's states for corn, rice, sorghum, and soybeans. January coal production in the District's states (excluding eastern Kentucky) was down 3.6 percent relative to a year ago.
NINTH DISTRICT—MINNEAPOLIS
Agricultural producers in the District remained in mostly strong condition. Despite the drought, the USDA reported that 2012 corn production broke records in Minnesota and North Dakota. South Dakota corn and soybean production were down from the previous year, but came in higher than earlier estimates. The Minnesota sugar beet and North Dakota soybean crops were the highest on record. Prices received by farmers in January increased from a year earlier for wheat, corn, soybeans, cattle, milk, eggs and poultry; prices for hogs, turkey and dry beans were below their year-earlier levels.
TENTH DISTRICT - KANSAS CITY
Agricultural growing conditions deteriorated further with persistent drought. Most of the winter wheat crop was in fair to poor condition with low soil moisture. While still higher than year-ago levels, crop prices edged down since the last survey period with softer export demand and slower ethanol production. Fed cattle prices held relatively steady, though feeder cattle prices rose as continued herd liquidations trimmed already low cow inventories. Robust demand from both farmers and nonfarm investors pushed farmland values to new highs, particularly for irrigated land due to water scarcity stemming from drought. District bankers reported collateral requirements held steady and ample funds were available for farm loans at historically low interest rates.
ELEVENTH DISTRICT—DALLAS
The drought was the main concern over the reporting period. Feed costs remained high and cattle supplies were tight because of the drought, while beef prices and demand both declined seasonally. Cotton prices rallied since the last report, and cotton exports were up slightly. In contrast, corn and grain sorghum prices declined modestly over the reporting period. Grain exports were lower than expected.
TWELFTH DISTRICT–SAN FRANCISCO
Production activity and sales were strong for agricultural producers, and extraction activity of natural resources used for energy production expanded on net. Demand for most crop and livestock products grew further, and high grain prices contributed to elevated land prices. Agricultural producers faced higher petroleum-based fuel costs but lower natural gas costs. Natural gas inventories declined a bit. In some slower-growing regions, demand for new gas and electric hookups remains tepid. In parts of the District, warmer-than-average weather conditions led to reductions in overall energy usage. Raw materials were adequately available, although water availability beyond 2013 was a concern in some regions due to a dry winter.
Summary:
The Beige Book reports, "Agricultural conditions across the country varied with weather patterns. Persistent drought contributed to poor crop and pasture conditions in the Kansas City and Dallas Districts while recent precipitation improved soil moisture levels in the Atlanta and Chicago Districts. Richmond, St. Louis, and Minneapolis reported that elevated crop prices supported stronger farm incomes. Kansas City and Dallas indicated that drought-related herd reductions pushed cattle supplies to historical lows, and Chicago, Kansas City and Dallas reported weaker agricultural export activity. Richmond, Atlanta, Kansas City, and San Francisco noted additional farmland value gains due to robust demand from both farmers and nonfarm investors. Chicago reported that congestion issues in barge traffic eased on the Mississippi River."
Posted by Stu Ellis on 03/06 at 09:45 PM | Permalink
Post a comment