Tuesday, December 04, 2012
What price will you use for your 2013 corn marketing plan?
Tweet
Audio Download
Dec_5_2012--season_average_corn_price.mp3
What is your marketing plan for 2013 corn? Some of you may already have one either in mind or on paper. Others quickly ask what the average price will be. If your concern is not knowing the average price for the 2013 marketing year, that can be solved in a hurry.
The current futures prices at the Chicago Board of Trade (CME) suggest the average price for the current marketing year will be near $6.00 per bushel, says University of Illinois farm management specialist Gary Schnitkey. He says they could vary widely from that. But based on historical prices, compared to the December futures prices, Schnitkey offers a way to determine the range of prices and a percentage of chance that it will be at a given price.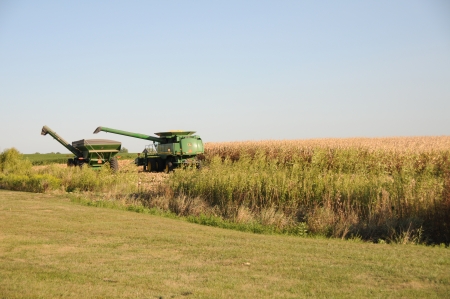 The marketing year average price is updated monthly by USDA when it issues its Supply and Demand Report. The range is typically wide at the outside of the marketing year in September, but narrows and becomes more definitive as the marketing year approaches an end in August.
Schnitkey suggests looking at variance in prices over the past 35 years between the December price and the season average price. There will be years like 1988 that the season average was 28% above the December price, and years like 1986 that the season average was 34% below the December price.
If your memory is fuzzy on those years, try out the relationship with last December and the balance of the 2011-12 marketing year. The season average price turned out to be 21% higher than the 2012 Dec corn price in 2011. When you look at his graph, more years have season average prices below the December price. And he says it ends up to be an average of 7% below.
Subsequently, Schnitkey says a season average price that is 7% below the current $6.40 price of 2013 December corn futures would be $5.95.
That is not to say you should plan on a season average price of $5.95, however it is a guide to what may be. When one looks at the extremes, the $5.95 is put in perspective. In those years when the largest drops in prices occurred, those percentage shifts would send the $5.95 into the $4 range. And in those years when the largest increases in prices occurred, the percentage shifts would send the $5.95 into the high $7 and low $8 range.
So how do you use that information to make the best determination of what the season average price will be in your effort to develop a marketing plan? Schnitkey says historical price changes can also be used to gain a feel for the chances of low prices. Percentage changes suggest that 2012 MYA prices:

• Will be below $4.50 in 3 out of 37 years, or 8% of the time.
• Will be below $5.00 in 6 out of 37 years, or 16% of the time.
• Will be below $5.50 in 14 out of 37 years or 48% of the time.
• Will be below $6.00 in 22 out of 37 years, or 59% of the time.
So if your marketing plan is built to sell above $6 per bushel, you have a four in ten chance (41%) of selling corn above the expected season average price. Schnitkey says, "Historical price changes suggest that a wide range of prices are possible in 2013. Prices below $4.50 per bushel are possible. Some of these are low and could signal lower net farm incomes. While not likely, price changes outside of historical chances also are possible."
Summary:
When working on a marketing plan for the coming year, season average prices will usually determine boundaries for most pricing opportunities. However, calculating the relationship between the season average price and the current delivery price will provide an opportunity to market grain with reasonable knowledge of the chances that prices will occur.
Posted by Stu Ellis on 12/04 at 10:39 PM | Permalink
Comments
Posted by: Jib at December 11, 2012 8:08AM
Posted by: John at December 11, 2012 9:09AM
Post a comment