Thursday, November 29, 2012
Farmland sales may be frequent, but does much of it really get new ownership?
Tweet
Audio Download
How many farmland sales do you attend if the land is selling in your neighborhood? In recent months of high priced land, they have held as much entertainment value as anything. You will see neighbors competing for land that will be the last time they may say anything to each other. You will see bidders gulp and swallow hard and pay more for an acre of land than they did for their last pick-up truck. You will see sellers go home with the prospect for a payday they never dreamed of in 50 years of farming. Farmland sales continue to demonstrate that land has an increased value and that land is continuing to be the dominant input for agriculture.
In recent weeks the number of farm sales have increased, but is that a function of the time of year, or a function of the land market, or a function of the government's financial challenges that may be facing sellers after January 1? Several years ago, conventional wisdom indicated that about half of one percent of all farmland sold in any given year, compared to stocks, one percent of which sold in any given day. But University of Illinois agricultural economist Bruce Sherrick has studied tens of thousands of land sales in Illinois and has developed a series of trends that will be applicable to many other Cornbelt states.
Interestingly, Sherrick has found that nearly all of the 102 counties in Illinois record sales on 1.5% to 2.5% of their land in any given year. So the rate of the rate of turnover is higher than conventional wisdom of a few years back. The change in acreage size being sold is almost negligible.
One of the challenges to reaching that conclusion was the need to define a farm, and also eliminate all of the sales that did not occur at an arm's length, such as a sale to a family member. He also eliminated sales of less than 10 acres and more than 1281 acres, which are frequently not market based. He also excluded sales of more than $20,000 per acre and particularly around metropolitan areas which would indicate the land was needed more for development than for farming. That left about 81,000 land sales over the past 12 years, or an average of 6,732 per year, involving more 545,000 acres per year. Sherrick reports that from 1979 to 1999 half of the sales were between relations, closely correlated with USDA data.
Does more land sell closer to the end of the year, so financial issues can be controlled? Sherrick found the first quarter of the year recorded over 2.1 million acres in land transfers, compared to 1.6 million acres sold in the second quarter of the year, 1.1 million acres in the third quarter and 1.7 million acres in the fourth quarter. However, that trend is changing significantly, and for the past two years, fourth quarter land sales have become dominant, as first quarter sales have diminished.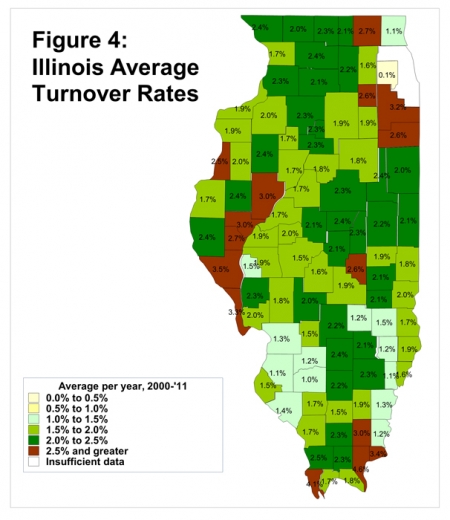 When Sherrick compiled land sales per county, only two metropolitan Chicago counties had less than 1% in sales per year. But in the counties that form a collar around Chicago, a minimum of 2.5% of the farmland changes ownership in a given year. There are also small groups of counties in the south-southeastern and south-southwestern parts of the sale with minimal sales. Nearly all of the rest of the state has recorded 1.5% to 2.5% of land sold annually.
Summary:
About two percent of farmland transfers ownership in any given year, and while most of the sales have been scattered throughout the year in the past decade, the past two years have recorded distinct trends for sales to occur in the fourth quarter of the year.
Posted by Stu Ellis on 11/29 at 10:27 PM | Permalink
Comments
Posted by: D at December 1, 2012 3:03AM
Posted by: dan at December 13, 2012 10:10AM
Post a comment