Thursday, August 30, 2012
What will happen to farm programs when Congress and taxpayers digest this data?
Tweet
Not every farmer will be celebrating the drought, but apparently it is bringing financial benefits to some, and maybe quite a few. The USDA's Economics Research Service (ERS) reported earlier this week that 2012 net farm income will be up 3.7% compared to 2011. Net cash income will also be up, along with net added value, all thanks to higher prices and crop insurance indemnity payments that have more than offset declining milk sales and higher production expenses. And because of the benefits of the crop insurance program, policy makers on Capitol Hill may re-open their analysis of crop insurance when they get around to debating the Farm Bill again.
National headlines, television news coverage, and widespread evidence of hot, dry weather over most of the nation have brought urban empathy on rural families. But when those urban folks hear that farmers will make a record income this year, their sympathy may quickly wane and farmers may no longer be in the compassionate spotlight they are now. In fact, some taxpayers who are budget hawks will call their Congressman to ask how much the government is spending for crop insurance that may be paying more than farmers would have received with a normal crop. The answer will not be friendly and may start a movement in Congress to make major program changes that House and Senate Ag Committee members may have a hard time stopping.
Farm Income Is Increasing for 2012
The ERS forecast for 2012 income reports "Crop receipts are leading the 2012 income increase, with strong gains in corn, soybean, hay, and wheat sales reflecting higher commodity prices. A large anticipated rise in other farm income reflects large increases in crop insurance indemnity payouts." It also reports, "Government payments paid directly to producers are expected to total $11.1 billion in 2012, a 6.3% increase from $10.4 billion paid out in 2011." (These payments do not represent crop insurance. They represent $5 bil. in direct payments, counter-cyclical payments, ACRE payments, and loan deficiency payments, nearly all of which are for southern crops, such as rice and peanuts and cotton.)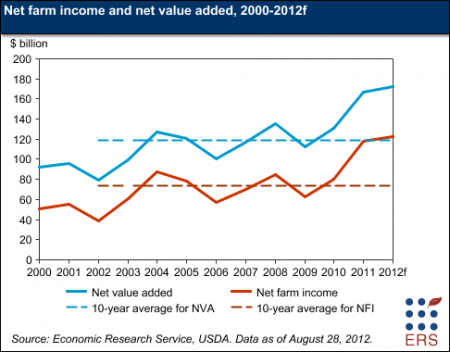 Specifically, the USDA economists say, "Hit hard by the 2012 drought, U.S. corn production is expected to decline, leading to drops in exports and alcohol for fuel use in marketing year 2012. While the quantity of corn for grain sold in 2012 is expected to decline almost 7.4 percent, a forecast rise of $1.31 per bushel should boost annual receipts. Scorching heat and a prolonged drought is expected to result in the lowest soybean supply in 9 years. Soybean sales are expected to experience a significant rise in 2012 as an increase of almost $3 per bushel more than offsets an 8 percent decline in the quantity of soybeans sold."
The ERS report does not address income from crop insurance, other than to say crop losses will be more than covered by indemnity payments. While farmers who neither have crop insurance or their losses are pasture and livestock related will rail at the ERS estimate, that estimate is corroborated by Ohio State University ag economist Carl Zulauf. His analysis casts a dark shadow on the harvest price option for crop insurance. Calculating potential insurance indemnity payments as of August 28, Zulauf says compared to the spring guarantee or the base price, corn prices have risen 40% and soybean prices have risen 37%. He notes, "For the average U.S. acre of corn and soybeans, the higher price resulting from the drought has more than offset the decline in yield resulting from the drought." Zulauf further calculates, "For example, as of August 28, if a farm has at least 75% insurance coverage and no forward contracting, crop insurance will guarantee a per acre revenue that exceeds the per acre revenue expected at planting." (His graph indicates 103 %.)
The Crop Insurance HPO Factor
The Ohio State ag economist says the harvest price option may have enticed more farmers to sign up for crop insurance because of the reduced risk, and he adds, "The availability of the harvest price option in crop insurance further means that, depending on the size of the increase in price, and assuming that a high enough insurance coverage level was purchased, a farm may have minimum revenue at harvest that exceeds the revenue expected when the crop was planted no matter what yield is, including zero." And that is what he believes will cause the public (and Congress) to begin a policy discussion over whether the harvest price option should receive the same USDA premium subsidy as the rest of the crop insurance program.
Zulauf says he agrees with the principle of both arguments, pro and con:
Advocates for the harvest price option point out that it allows crop farms to feel more comfortable forward contracting grain. The harvest price option covers the financial risk exposure of having to buy grain in the market to cover their inability to fulfill their forward contracts.
The counterpoint is that the harvest price option can encourage farmers to forward contract more than is consistent with prudent risk management, especially in years of sizable yield declines.
He says for farmers to determine how they feel about the issue, they should emotionally remove themselves from agriculture, assume the role of a taxpayer, and ask whether they would still support the concept and cost of the harvest price option.
Summary:
While the drought has reduced crop yields, commodity prices have risen more than yields have declined, subsequently, net farm income is expected to increase in 2012 over 2011. One of the reasons is the expectation that crop insurance will pay farmers the price at harvest, which is more than what was expected when they signed up for the crop insurance program. That being the case, taxpayers have funded the crop insurance program, and may begin to ask whether they or the producer should fund the premium for the harvest price option.
Posted by Stu Ellis on 08/30 at 10:09 PM | Permalink
Post a comment